Mil-lemon-ium - Mad Magazine's spoof on Millennium with profiler Dank Black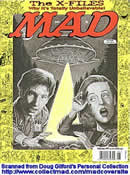 Issue 358 of Mad Magazine featuring the spoof on Millennium.
Opposite is a copy of the cover showing David Duchovney and Gillian Anderson in all their cartoonish glory, courtesy of the excellent Doug Gilford's Mad Cover Site.
Grateful thanks is extended to TIWWA forum members Anamnesis and Ethsnafu for sharing the scans and issue details.